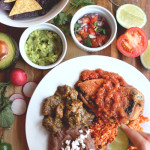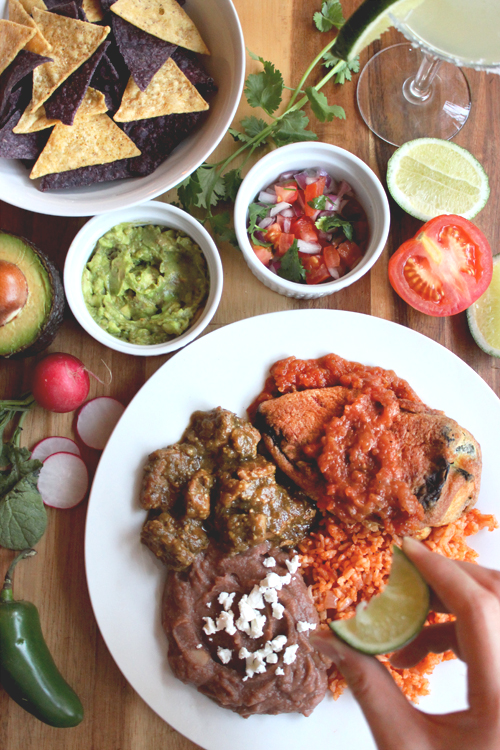 Living in California, I am just surrounded by amazing Mexican food everywhere! Whether it's a taqueria, a fancy cantina, or a push cart down the street, you don't have look very far to find your favorite dishes.
In fact, one of my favorite dishes is, you guessed it, chile rellenos – peppers stuffed with cheese that've been battered and deep fried served with a tangy tomato salsa. The first time I had these were in Woodland, California at Maria's Cantina. I was told their chile rellenos were amazing – the stuffed peppers I've had in the past were always just filled with bland barley and raisins, but I'm always down to try new foods, so I took chance and order it with a side of rice and beans. Needles to say, I was pleasantly surprised. The richness of the jack cheese, the smoky poblano flavor, and the zesty salsa…I had never had anything like it!
Fast-forward a few years, and here I am today, making my own chile rellenos at home. Not going to lie, these peppers are a lot more labor-intensive than I had expected, but it'll be worth it once you take that first bite. Check out the recipe below! (modified and adapted from All Recipes.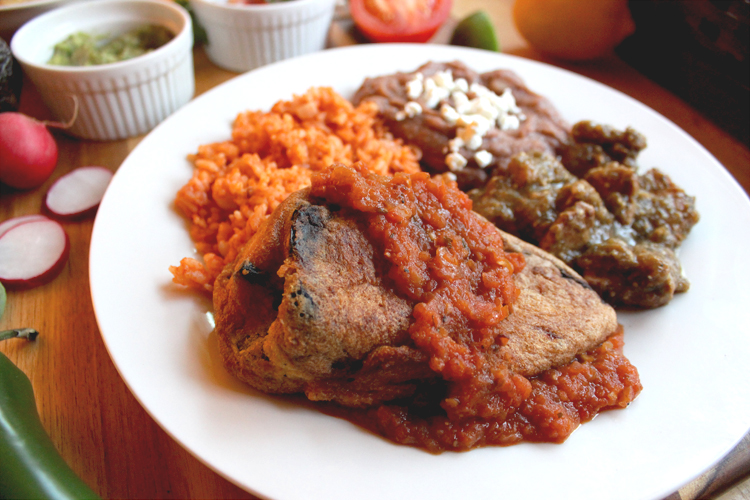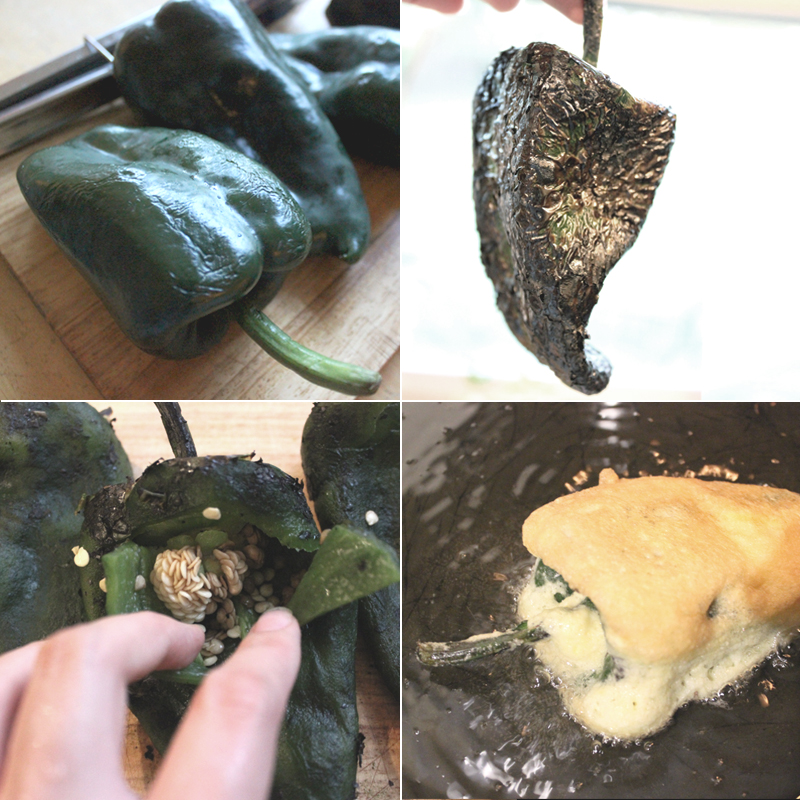 Ingredients
Yields: 4 stuffed peppers
Stuffed peppers:
4 poblano/pasilla peppers
4 oz of pepper jack cheese, cubed
4 eggs, yolks and whites separated
⅓ cup flour, for batter
½ tsp salt
¼ cup flour, for dredging
1 ½-2 cups oil, for frying
Sauce:
3 tomatoes
1 tbsp vegetable oil
½ onion, diced
2 cloves garlic
½ cup chicken broth
½ tsp cumin
½ tsp oregano
½ tsp pepper
2 tbsp vinegar
1 tsp hot sauce
Directions
Roasting and stuffing the peppers:
Using a gas burner or torch, carefully roast the peppers on all sides until crisp and blackened. After roasting each pepper, place them into a large bowl covered with a plate or lid allowing the peppers to steam in their own heat. (This part is crucial! The steaming process makes it easier for you to peel off the skin) After the peppers have sat in their own steam for about 15-20 minutes, use a paper towel to rub off the blackened skin. Using a paring knife, make a small T-shaped incision on one side of each pepper, just big enough for you to cut out the seeds and stuff in the cheese. Carefully remove the seeds. I like to leave in some seeds, but just know, the more seeds, the spicier your chile relleno will be. Stuff the pepper with 1 oz of cheese and set aside.
Making the sauce
Puree the tomatoes in a food processor. In a small sauce pan over medium heat, heat the oil, toss in diced onion and brown until slightly translucent, stirring occasionally. Stir in garlic for about a minute. Then stir in tomato puree, chicken broth, cumin, oregano, pepper, vinegar, and hot sauce. Simmer until the sauce has thickened, then remove from heat and set aside.
Making the batter
With an electric mixer, whip the egg whites and salt until stiff peaks form. Stir the egg yolks with a fork or whisk. Using a spatula, fold the yolks and ⅓ cup of flour into the whipped egg whites.
Heat the frying oil in a skillet on medium to medium-high, you want it to be in the range of 325 Fahrenheit.
Coating the peppers:
Dredge the peppers in ¼ cup of flour and dip into the egg batter; you may need to used a spoon to evenly cover the pepper.
Frying the peppers:
Place the peppers in the hot oil. (I placed 2 peppers in the pan at a time to prevent overcrowding.) After the first side has reached a golden brown color, about 2-4 minutes, flip the pepper allowing it to brown on the other side. When the peppers are done frying, place them on a few paper towels to soak up the excess oil.
Preparing the plate:
Pour a few spoonfuls of the sauce onto a plate, lay the pepper on top and pour just a bit more sauce over the top. Voila! You're finished!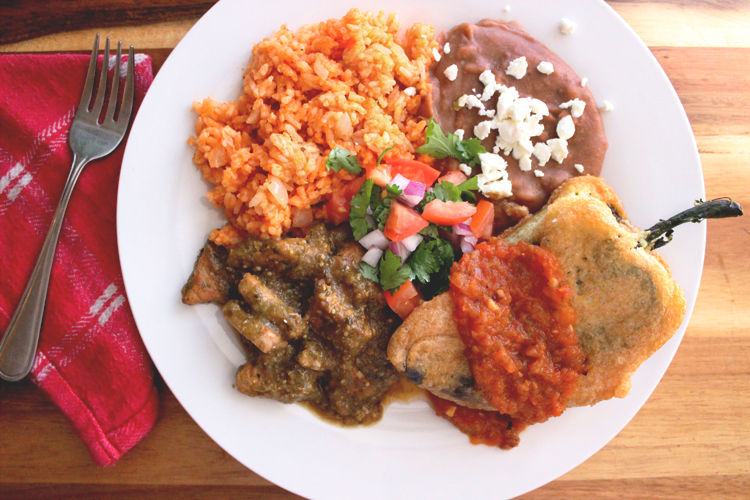 Share with Your Amigos!