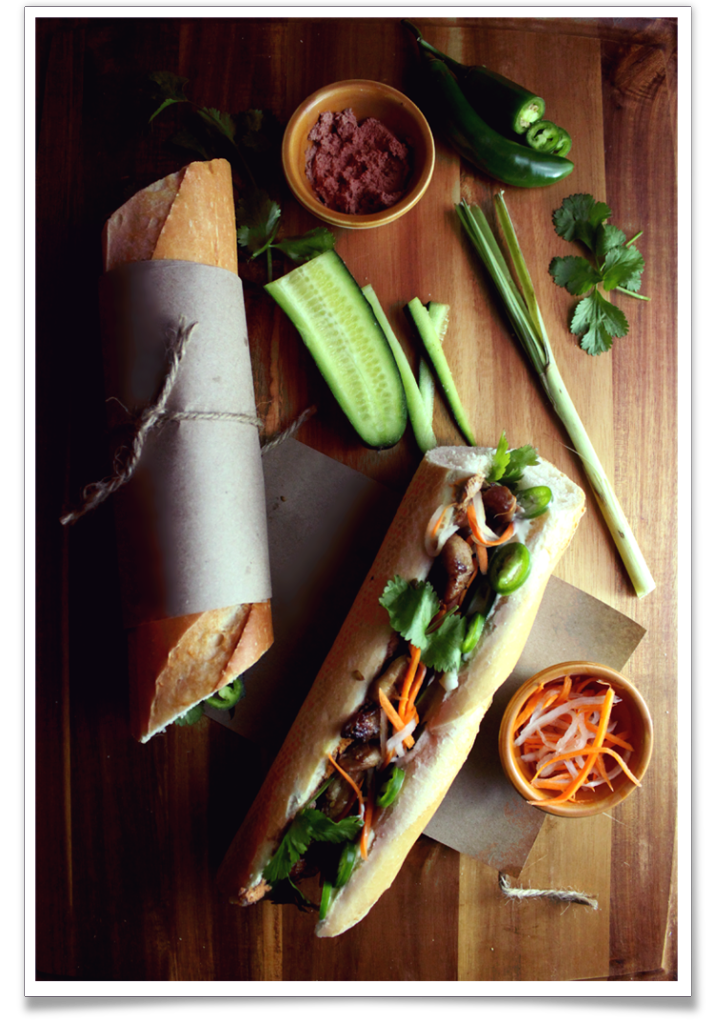 When people hear of Vietnamese street food, they automatically think of banh mi. Although it's known to be essentially "fast food", I'm glad to see this sandwich style making its way into both upscale restaurants and food trucks alike in this nation.
Banh mi is simply translated as "sandwich". So, what makes a banh mi sandwich different from others? The answer is in the toppings! Rather than your boring lettuce-tomato-onion topping in your plain Jane sandwich, imagine biting into crisp cilantro, cucumbers, pickled carrots and daikon, fresh serrano peppers, and pate!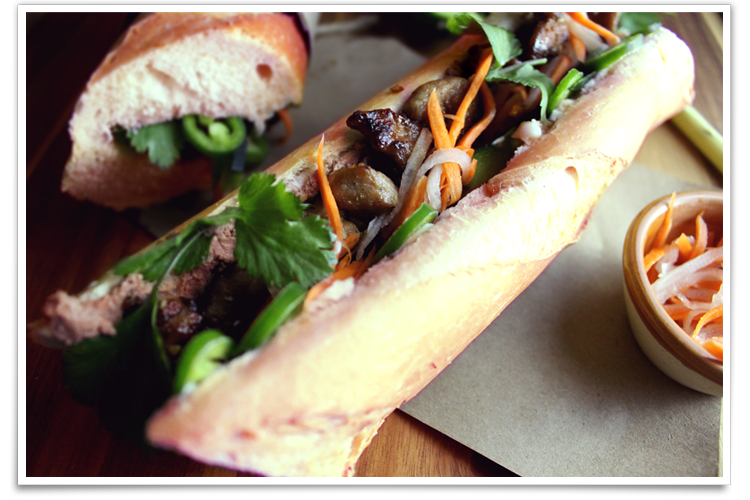 Banh mi is always served with French bread (a little something the Vietnamese picked up from the French colonization) and filled with some type of marinated meat. I decided to make grilled lemongrass pork as my filler.
My parents used to own a small shop in a Vietnamese Chinese shopping plaza in the bay area. On days I would help them out at the shop, I would go to the corner deli and get my pick of all the sandwich choices for lunch. Somedays, I felt like a ham sandwich (banh mi cha lua), other times I felt like a meatball sub (banh mi xiu mai), whatever I chose, I was never disappointed because this particular deli took pride in their quality ingredients and I could tell with every bite!
Remember, the formula to any delicious sandwich is this:
quality bread + savory meat + fresh veggies = ZOMG, that's the stuff!
Keep this in mind when grocery shopping. Never settle for mediocre ingredients! You'll only be half satisfied.
Ingredients:
For Lemongrass Pork:
1.5 lb pork shoulder
1 shallot, minced
3 cloves garlic, minced
1/8 cup lemongrass, minced
1 tbsp sesame seeds
1 tbsp 2 tsp sugar
1 tsp pepper
2 tsp honey
2 tbsp fish sauce
1 tsp sesame oil
1 tsp vegetable oil
Toppings:
French bread, enough to make 4 foot long sandwiches
1/2 cucumber, julienned
1 bunch cilantro
2 serrano peppers, sliced
1/8 cup pate
1/8 cup mayo
pickled carrots and daikon recipe, click for recipe
Directions:
Mix all ingredients for lemongrass pork together in a large bowl and let it marinated overnight or for at least 4 hours. Grill the pork over medium heat, letting it char slightly.
Slice open the baguettes and toast them in the oven at 400 degrees Fahrenheit for a few minutes until slightly toasted. Open each baguette and spread about a tablespoon of pate on one side and one tablespoon of mayo on the other. Fill the loaves with the grilled lemongrass pork and as much toppings as your heart desires!
Share with Your Amigos!