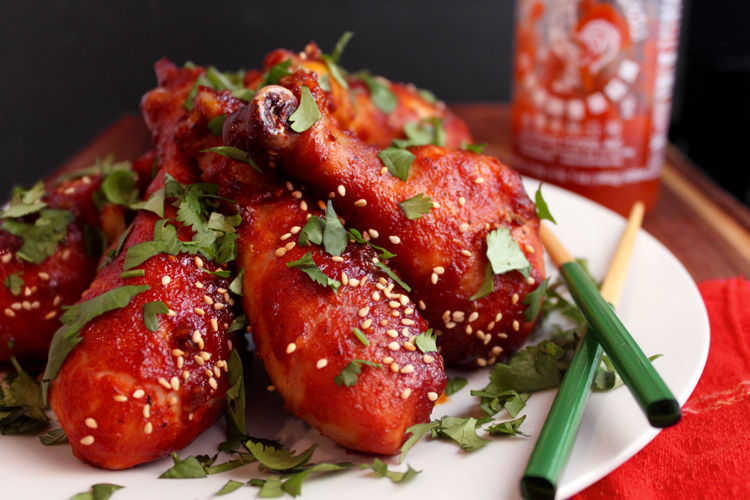 I've been suffering from this intolerable cold on and off again for the past 2 months! Just when I start to feel better, this cold sucks me back in. Needless to say, I've been an utter mess. Jonah's been super sweet caring for me. The other week he set up the vaporizer for me, stocked the fridge with yummy soup, and encouraged me to veg out in front of the TV all day. I slept, watched the entire first season of Downton Abbey, slept some more, ate soup, and slept again. The next day, I was cured! All symptoms were gone! "Thank Lord Grantham", I thought. But…I spoke too soon. Not even a week later, the dreaded symptoms had returned. Yesterday, I ran a fever of 100.2F. Can you say "FML"? It's as if my immune system decided to go on furlough for 2 months. I'm willing to do anything to finally be rid of this cold! Which brings me to today's recipe.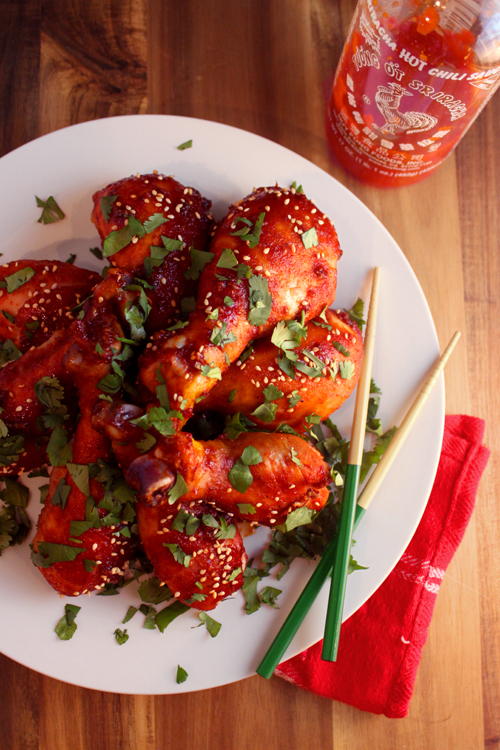 You're probably thinking "what does Sriracha Drumsticks have anything to do with colds?" Well, in my desperate search for home remedies, I came across an article naming capsaicin a great remedy for the common cold. Luckily, one of my favorite ingredients, Sriracha, is loaded with capsaicin! I'm hoping these tasty Sriracha Drumsticks cures me of this wretched cold, if not, at least I'll enjoy a yummy dinner.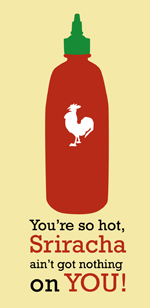 Buy a high resolution digital file of this nifty Sriracha graphic (card size) from my Etsy Shop for only $4!
Ingredients:
2 lbs chicken drumsticks (about 8 drumsticks)
1/4 cup Sriracha
1/3 cup ketchup
2 tablespoons honey
2 tbsp soy sauce
1 tbsp fish sauce (optional, use 1 extra tbsp soy sauce if opting out of fish sauce)
1 tbsp sesame oil
4 cloves garlic, minced
pinch of pepper
10-15 sprigs of cilantro, chopped (just the leaves)
1 tsp toasted sesame seeds
Directions:
Marinate the chicken in a large bowl with Sriracha, ketchup, honey, soy sauce, sesame oil, and garlic. Allow it to marinate for 3 hours or overnight.
Heat the oven to 375F. Place the chicken evenly on an aluminum foil covered sheet pan and bake for 25-30 minutes. Test the internal temperature of the chicken. The internal temperature must reach 165F.
Garnish with chopped cilantro and sesame seeds and enjoy!
Share with Your Amigos!