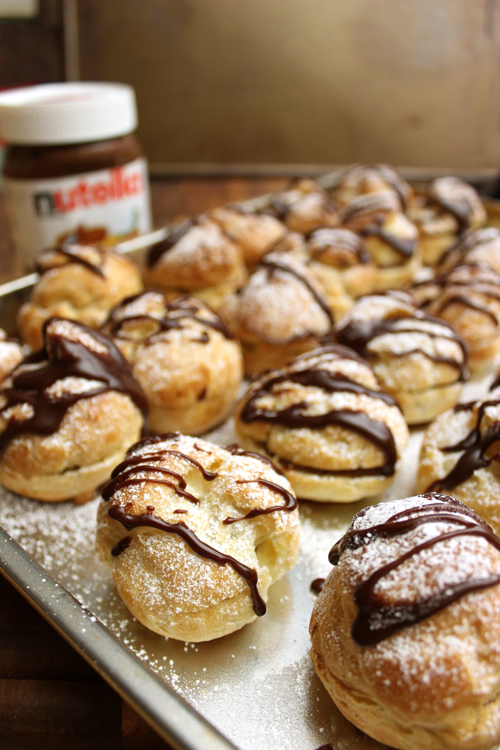 Cream puffs and I have deep and long history. For most kids in the U.S., the cupcake is the go-to for sweet comfort food snacks, but that wasn't the case for me. No, the cream puff was my childhood indulgence. My parent's had a shop next door to a Vietnamese and French bakery. Growing up, I was taught to be frugal at a young age, and at 35 cents each, the cream puff was the perfect answer to my cheap sweet tooth.
In this recipe, I'm using a classic chocolate pastry cream for the filling. The pate choux pastry recipe is from Edible Memories, who I believe references Williams-Sonoma.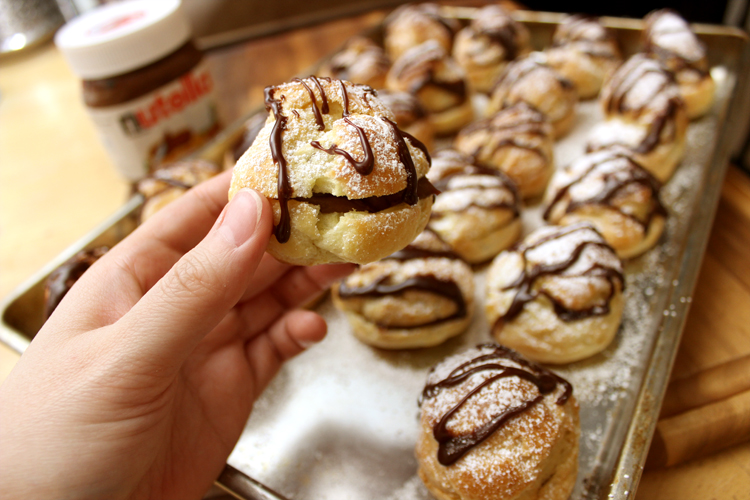 Pastry Cream
2 ½ cups whole milk
6 egg yolks
½ cup granulated sugar
¼ cup all-purpose flour
5 tablespoons plus 1 teaspoons cornstarch
2 teaspoon pure vanilla extract
1 cup chocolate chips (melted)
Directions
Making the pastry cream – In a small saucepan, place the milk over low-heat. You want it just hot enough to steam. While waiting for the milk to warm, whisk together the egg yolks, sugar, flour, and cornstarch until smooth. Add half of the steaming milk, while whisking constantly, to the egg mixture. Add the milk and egg mixture back into the pan of the remaining warm milk. Continue stirring until the mixture reaches 170F and has thickened. Remove from heat and stir in the vanilla extract and melted chocolate. Refrigerate for 30-45 minutes
Choux Pastry (recipe from Edible Memories)
¾ cup milk
¾ cup water
9 tbsp butter, cut into pieces
½ tsp salt (absolutely necessary!)
1 ½ cup flour
6 large eggs
Directions
Preheat oven to 425 degrees F. In a medium saucepan, combine milk, water, salt, and butter. Bring to full boil on medium-high heat.
Remove from heat when butter has melted and mixture is boiling. Add in flour all at once, stir vigorously until blended. A thin film will form on the bottom of the pan, don't scrape it off, it's not meant to be mixed into the dough.
Continue stirring until the mixture leaves the sides of the pan and forms a nice ball of dough. Cool for a 3 minutes. (It's important to let the dough cool before adding eggs; this cooling time allows for gluten strands to form thereby creating a more hollow shell)
Beat an egg in a separate bowl before adding to the dough. Mix well to incorporate. Repeat with second egg. The resulting batter should be smooth and soft.
Let dough cool for 10 minutes before making the puff balls on lined baking sheets. place dough in a disposable piping bag with a 1 inch opening.
To make small puffs, pipe about 1 tsp of batter for each puff, spaced 1-2 inches apart on the baking sheet. To make large puffs, pipe out 1-2 tbsp of batter. Using your finger, smooth the edges of the balls of dough to prevent edges from burning prematurely.
Bake puffs in oven for 15 minutes. Then reduce heat to 375 degrees F and bake for another 5-10 minutes until the puffs are golden brown.
When the cream puffs have dried off and cooled slightly (or completely, however you prefer), cut open the tops and fill with chilled custard. The puffs should have a hollow center that will hold the custard perfectly. Cover with top of puff and serve immediately. For best presentation, dust with powdered sugar or drizzle with melted chocolate (or Nutella).

Nutella Drizzle
1/4 cup Nutella
4 tbsp whole milk
Directions
Microwave Nutella for 30 seconds, add milk and stir until smooth.

Yields 36 cream puffs.
Share with Your Amigos!