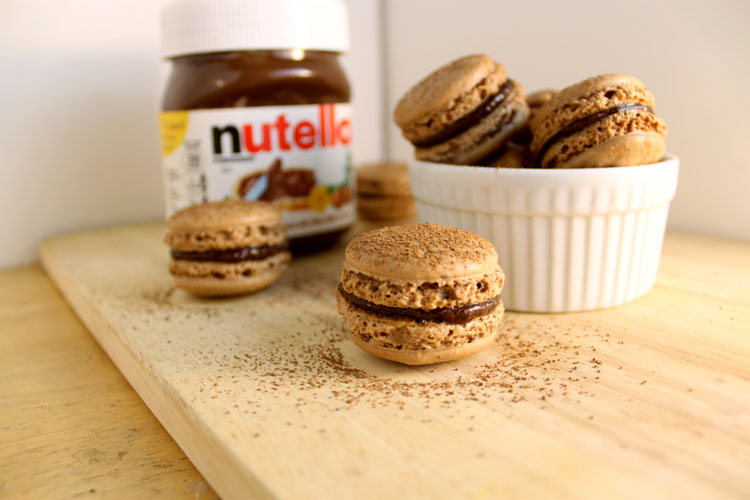 Life has been crazy busy, let me tell you. I've been MIA lately I know; though I doubt anyone is uber upset about it. Let me just list a few things that have been going on: Jonah threw me a surprise birthday party, yes, I'm quite the lucky girl! He got me ukulele, which I've been practicing daily! I've been working crazy hours at the office (60 hours last week). Jonah over went PRK eye surgery. We're remodeling the bedroom; I'm sleeping on the living room floor til we get it finished. And, let's see…oh, I ran the Sacramento Color Run this past Saturday with my MoH!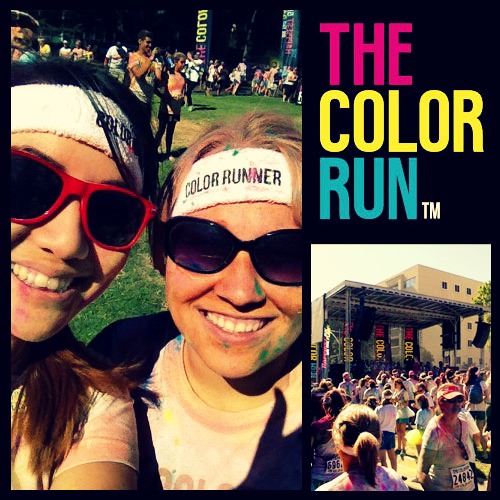 So yes, to say I've been busy is an understatement. It was nice to break away and spend a few hours in the kitchen baking up these bad boys! My first attempt at macarons was an epic fail to say the least. I'm pretty sure chocolate macarons aren't suppose to look like tiny piles of sh!t. My mistake with the first batch was in the meringue. I whipped the egg whites until soft peaks formed rather than stiff peaks. So, learn from mistake and whip those egg whites until they're real nice and firm, around 8-10 minutes, but be forewarned, there is such a thing as over-whipping. Also, I recommend purchasing silicone baking mats. The cookies from the first batch a few from the second batch had stuck to the parchment paper; it was a pain to peel off! Alrighty, enough rambling from me, enjoy this easy peasy recipe for Nuttella macarons.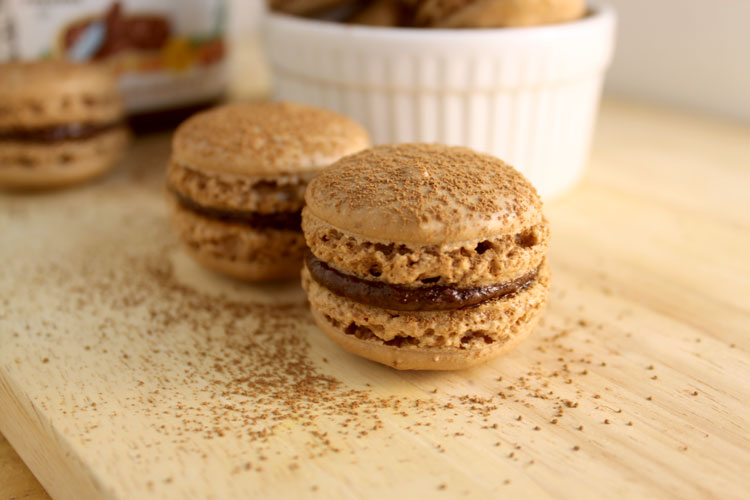 Adapted from Beth's Foolproof French Macaron Recipe.
Ingredients:
3 Egg Whites
¼ cup granulated sugar
pinch of salt
¼ tsp cream of tartar
2 cups powdered sugar
1 cup almond flour
1 tbsp cocoa powder (plus extra for dusting)
1/4 cup Nutella
1 tbsp milk
Directions:
Preheat oven to 300 degrees Fahrenheit
Beat the room temperature egg whites until it's foamy, then add the salt, cream of tartar, and granulated sugar. Whip for 8-10 mins until the mixture is glossy and until stiff peaks form.
Sift the almond flour, powdered sugar,and cocoa powder together and run through a siv. Set aside the large clumps to snack on later:)
Fold the flour mixture into the egg whites, about 65-75 times.
Pour the batter into a large piping bag and pipe out 1 inch circles on silicon baking mats.
After piping the batter, lightly bang the pan on the counter top 5-6 times to release air bubbles from the macaron batter.
Allow the macarons to sit for 20-30 minutes before placing them in the oven.
Place in the oven and bake for 18-20 minutes.
When it's finished baking, allow the macarons to cool for a 5-10 minutes
Mix the nutella and milk in a small bowl.
Pipe or spread the nutella filling onto the flat side of a macaron and sandwhich it with another macaron cookie.
When finished assembling all your cookies, dust with a bit of cocoa powder and voila! I hope you enjoy making (and eating) these cookies as much as I have!
Yeilds: 20-30 cookies
Share with Your Amigos!