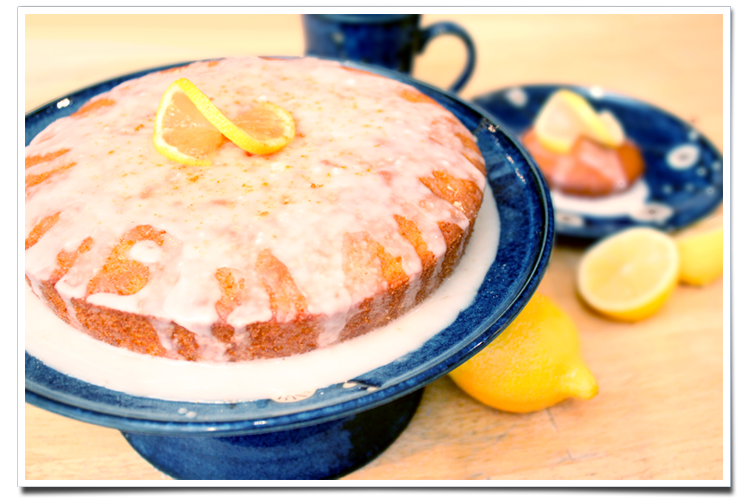 Remember when you were a kid, eating fruity candies and picking through your favorite colors to munch on? I'm willing to bet yellow was everyone's least favorite flavor. I was no different. "Lemon? Uhh…no thanks, I'll stick with the red". Opening a Starburst where both pieces were lemon-flavored meant God was punishing me for something. It's true lemon is the neglected child of candy flavors, and yet, I found everyone seems to LOVE lemon cake. Go figure! Is it the intoxicating combination of fresh lemon zest and vanilla? Or is it the spongy texture perfumed with pungent citrus that gets people going? Either way, it'll be a hard task to find a lemon cake hater, and if the day comes when you do encounter one, remember this recipe post. It'll turn any hater into a lover!

My future sister-in-law came into town from Washington D.C. this past weekend and I decided to make this moist and zesty lemon cake with hint of ginger for her little surprise party. Have I ever mentioned how lucky I am to have adopted some pretty awesome in-laws? I know most people aren't so fortunate. (Brownie points from in-laws who end up reading this?) Anyway, enough sucking up to my future relatives. I'm glad to report the cake was gobbled up, icing was scraped completely off the plate, and multiple compliments were made. I was one happy baker!
Ingredients:
Cake
1 1/2 cups all purpose flour
1 teaspoon baking powder
1/8 teaspoon baking soda
2 tsp grated ginger or ground ginger
1 1/8 cups sugar
4 large eggs, room temperature
1/8 cup lemon juice
1 cups (2 sticks) butter, melted
1/3 cup plain or vanilla yogurt
1 tbsp 2 tsp lemon extract
1 teaspoon pure vanilla extract
1/4 tsp yellow food coloring (optional)
Lemon Icing
1 cup powdered sugar
1 tbsp lemon juice
1 tsp water
1/4 tsp vanilla extract
Sift together the flour, baking powder, baking soda salt, and ground ginger. With a mixer, whisk the sugar, eggs, and lemon juice until combined. Whisk in the melted butter. Add the yogurt, vanilla extract, lemon extract, food coloring and mix. Do not overmix as it can turn the cake dense and tough. A little at a time, fold in the dry ingredients.
Pour into greased cake pan. Bake at 350 degrees Fahrenheit for 20-30 minutes. Check if the center is set with a toothpick or skewer. When finished cooking, allow cake to cool for 5-10 minutes. Place cake onto plate and continue to cool.
Lemon Icing
Mix together the powdered sugar and 2-3 tablespoons of lemon juice, add more lemon juice if needed. Add vanilla extract. When cake is cooled, pour the icing over the top and allow it to harden. Garnish with a lemon slice, sprinkle with ground ginger and voila! Enjoy with milk or a nice cup of tea!
Yeilds:" 1 9" round cake (2" high)
Share with Your Amigos!