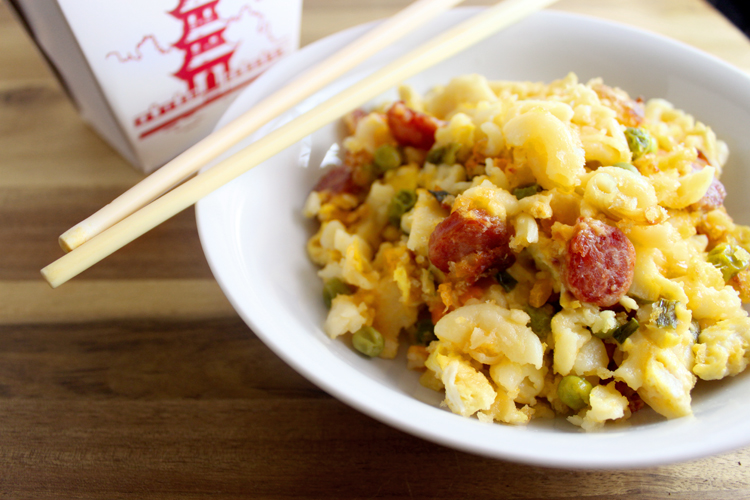 Today's recipe: grown up mac and cheese with an Asian twist!
Think fried rice meets mac and cheese.
Weird? Maybe. Delicious? You bet!

I was perusing through mac and cheese photos on Food Gawker and I came across recipes of all kinds; Italian, Mexican, even Indian mac and cheese recipes! Sadly, I found no love for East Asian ingredients when it comes to good ole M&C. This is most likely because cheese isn't really a common used ingredient in most parts of Asia.
I decided to give it a shot! I thought of the fried rice my mom used to make me as a kid and thought "bingo!".
The idea of succulent Chinese sausage and scrambled eggs, mixed with veggies and covered in a sharp cheesy sauce with al dente pasta was enough to make my mouth water.
If you love fried rice and mac and cheese, you are sure to love this recipe!
Ingredients:
1 (8-ounce) package macaroni, cooked al dente
2 cups milk
1/4 cup all-purpose flour
1/2 teaspoon salt
3 1/2 cups sharp Cheddar cheese, shredded (1/2 cup for topping)
2/3 cup Panko breadcrumbs
4 Chinese sausages, diced
4 eggs, scrambled and chopped into bits
3/4 cup peas
3/4 cup diced carrots
4 scallions, diced
Cooking spray
Directions:
Cook the pasta and drain. Set aside.
Mix together milk, flour, and salt in a bowl.
Add the milk-flour mixture a 3 cups cheddar cheese to the pasta and mix.
Fold in the sausage, peas, carrots, scallions, and scrambled eggs.
Pour the mixture into a lightly greased 13×9 baking dish
Sprinkle top with 1/2 cup cheddar cheese.
Sprinkle top with panko bread crumbs.
Drizzle the top with melted butter.
Bake at 350 degrees for 45 minutes or until golden brown.
Share with Your Amigos!