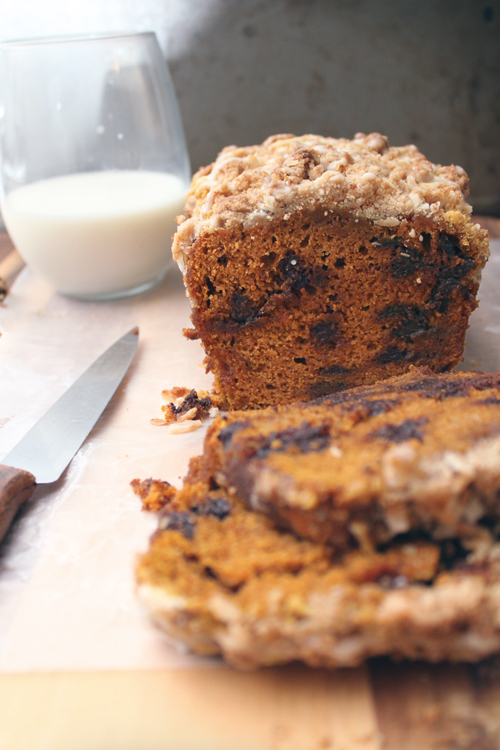 This recipe is a fairly new discovery. This past spring, I took a road trip down to San Diego, or "San Diagooo" as Ron Burgundy calls it. I was travelling with a few buds and stayed at a friend's house in Carlsbad. Augusta, my friend's grandmother, was our incredibly sweet host and on our arrival, she made the best pumpkin bread I've ever had! Moist, decadent, and filled with yummy spices, this pumpkin bread had fast-forwarded me to Fall.
With Thanksgiving just behind us and Christmas on the horizon, there couldn't be a more perfect time to bake up this amazing pumpkin bread. Lucky for me, Augusta was kind enough to let me jot down the recipe and I was surprised to learn how easy the steps were. I changed it up a bit and added chocolate chips, streusel, and icing, because you know, there wasn't enough sugar already 😉
Pumpkin Bread
3 cups Sugar
3 cups Flour
1 ½ tsp Salt
1 tsp Allspice
½ tsp Ground Cloves
1 tsp Nutmeg
1 tsp Cinnamon
1 tsp Ginger
4 Eggs
1 cup Oil
1 large can (29 oz) Pumpkin Puree
2 tsp Baking Soda
3 tbsp Water
12 oz chocolate chips
Streusel
1/2 cup Flour
1/4 cup Oatmeal, plus an additional 1/8 cup
1/2 cup Brown sugar
1/4 cup Butter softened to room temperature
Pour the flour, oatmeal, and sugar in a food processor and mix together. Cut the butter in small pieces and add to the mix. Pulse until mixture is crumbly. Pour into a bowl and using your hand clump mixture together and break into tiny crumbles. Add in the additional 1/8 cup oatmeal and gently stir together
Vanilla icing (for drizzling)
1 cup powdered sugar
2 tbsp and 1tsp hot water,
1/2 tsp vanilla extract
Mix together until smooth.
Directions
Preheat the oven to 350 degrees Fahrenheit. In a small bowl, mix together baking soda with 3 tbsp of water. In a mixer, blend dry ingredients (minus baking soda of course) together. Add 4 beaten eggs, oil, and pumpkin puree and mix well. Add in the baking soda and water solution and mix again. Fold in 12 oz of chocolate chips. Grease and flour 3 baking pans (7.5" x 3.5" x 2.25"). Pour batter evenly in all pans. Pour the streusel (optional) evenly over the unbaked pumpkin bread. Place the pans in the middle of the oven and bake for 50-60 minutes. After baking, allow the pumpkin bread to cool for at least 20 minutes before drizzling on vanilla icing. Allow the icing to harden and voila, you're finished!
Share with Your Amigos!