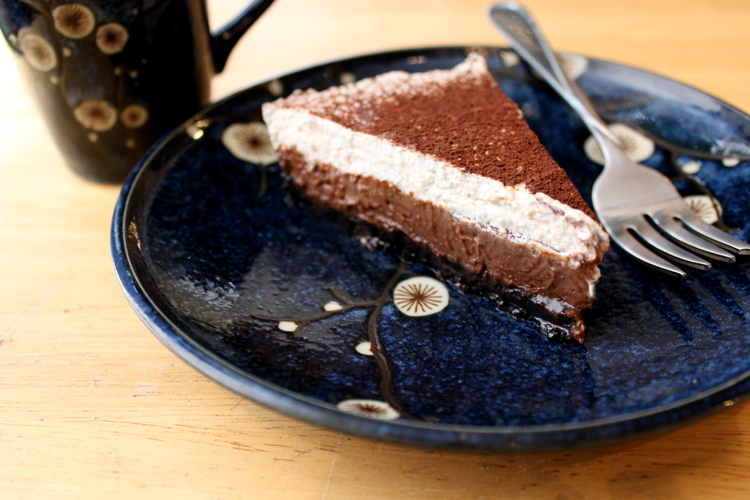 So I suppose you can make a decent chocolate cream pie using a store-bought crust, with store-bought instant chocolate pudding mix, and store-bought cool-whip, but…if you want a delicious and decadent chocolate cream pie that you can brag about (because you made it from scratch), then I highly suggest this recipe.
We all remember that chocolate cream pie quote from Julie & Julia don't we? Well, if you don't, here it is again:
"You know what I love about cooking? I love that after a day when nothing is sure and when I say nothing, I mean nothing. You can come home and absolutely know that if you add egg yolks to chocolate and sugar and milk, it will get thick. That's such a comfort."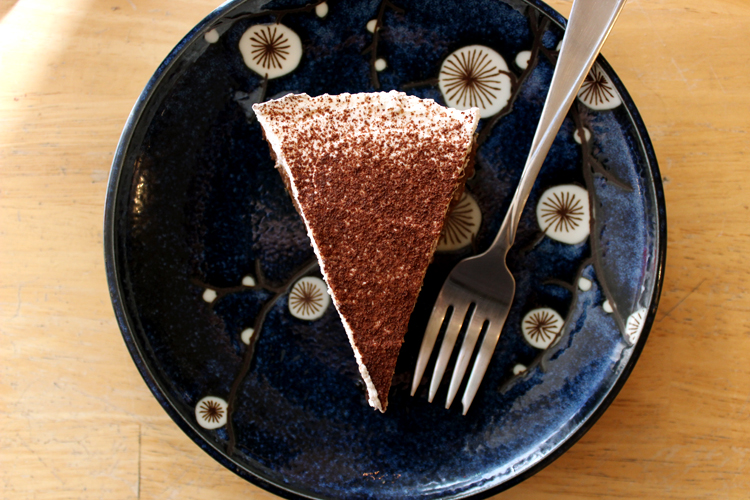 I never could explain why cooking and baking was so therapeutic for me. When I heard the quote above, I felt like Julie Powell had successfully put into words why most people, myself included, take comfort in the art of cooking. However, if you're like me, you've experienced many, and I mean many, kitchen mishaps. I've learned that if things don't go according to plan, in life or in the kitchen, don't sweat it! Take for example, this recipe for chocolate custard – ironically enough, on my first batch, I screwed up. "Julie Powell lied to me!" I thought. I realized later that I had heated the milk too high causing the egg yolks to slightly curdle. It was undoubtedly frustrating, but I started over and sure enough the second batch was as smooth as silk. So I guess what I'm trying to say is, don't sweat it. Recipes that I've made a million times will sometimes give me hell, just roll with it, and hopefully you'll learn and improve from it.
Ingredients
Chocolate Crumb Crust
10-12 Oreo cookies
1 1/2 tbsp melted butter
Pastry Cream
1 ¼ cups whole milk
3 egg yolks
¼ cup granulated sugar
1/8 cup all-purpose flour
2 tablespoons plus 2 teaspoons cornstarch
1 teaspoon pure vanilla extract
½ cup chocolate chips (melted)
Topping
1 cup heavy whipping cream
¼ cup powdered sugar
1 tsp vanilla extract
1 tsp cocoa powder
Directions
Making the crust – In a food processor, pulse the Oreos until fine and sandy. Mix in melted butter. Take the crumb mixture and press into the bottom of a 9 inch cake pan. Allow the crust to cool in fridge for about 30 minutes.
Making the custard – In a small saucepan, place the milk over low-heat. You want it just hot enough to steam. While waiting for the milk to warm, whisk together the egg yolks, sugar, flour, and cornstarch until smooth. Add half of the steaming milk, while whisking constantly, to the egg mixture. Add the milk and egg mixture back into the pan of the remaining warm milk. Continue stirring until the mixture reaches 170F and has thickened. Remove from heat and stir in the vanilla extract and melted chocolate.
Pour custard into cake pan over the chocolate crumb crust. Spread it nice and evenly. Refrigerate for 30 minutes.
Making the topping – With an electric mixer, whisk together whipping cream, vanilla, and powdered sugar until stiff peaks form.
Spread whipped cream over custard evenly and sprinkle top with cocoa powder.
Servings: 8-10 pie slices
Share with Your Amigos!