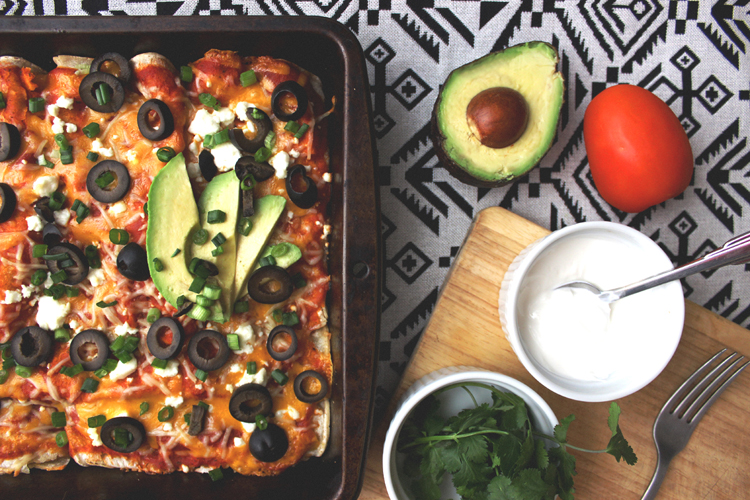 I love seeing color in my food. You know, they say you eat with your eyes first. I mean, just look at those vibrant green avocado slices, or that rich red sauce covered under that bed of pale yellow and white cheeses! It's like a kaleidoscope of color, textures, and flavors! And believe me, these enchiladas are both bursting with color and flavor!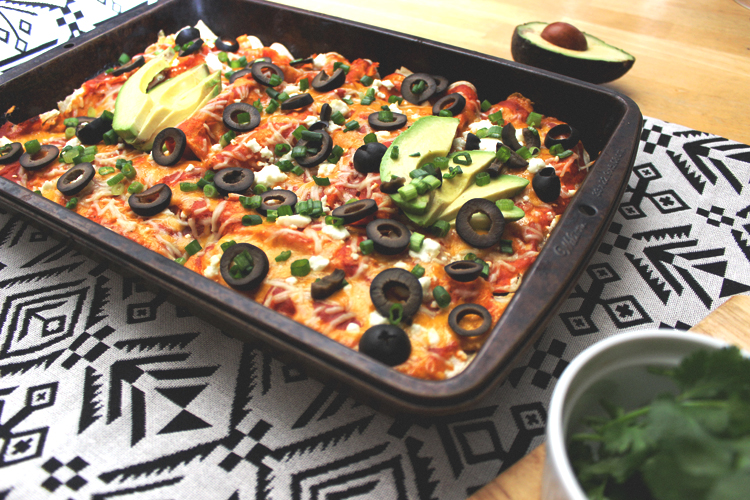 Ok, so these enchiladas are by no means authentic, but they're still tasty none the less. If you're just looking for a quick and dirty fix to satisfy your enchilada craving, then look no further. I made these in less than an hour with plenty of leftovers for lunch the next day.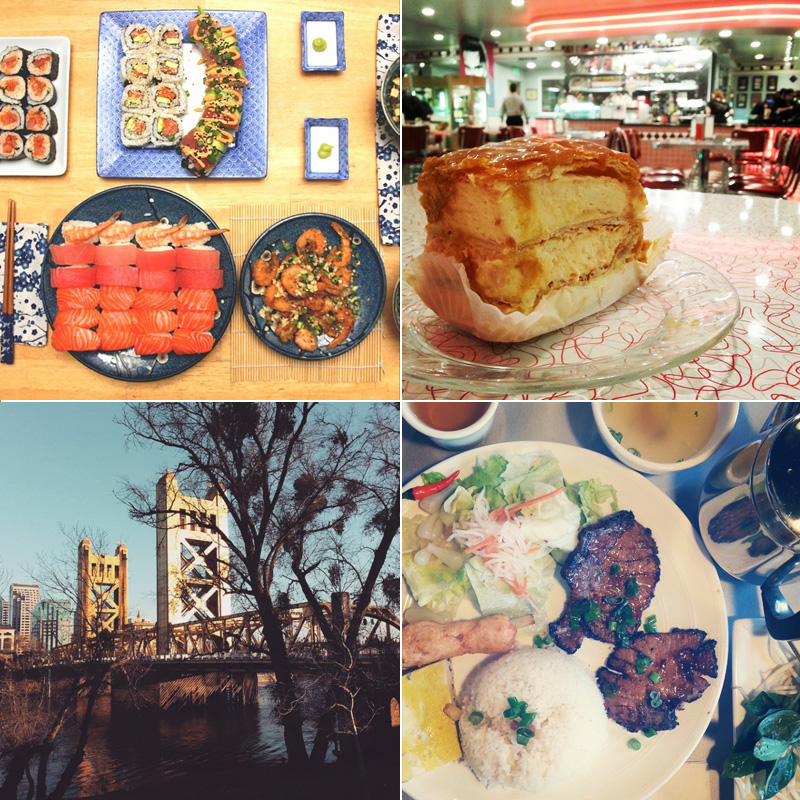 Top left: Homemade sushi. Made my and my husbands favorite sushi dishes/rolls.
Top right: Napoleon from Rick's dessert diner in Midtown Sac. My first time there – will be going back for sure!
Bottom left: Took a pic of the Sac bridge while walking Bailey
Bottom right: Had lunch in San Jose with the family and ordered the com tam.

Ingredients
1 tbsp vegetable oil
¾ -1 lb ground beef
1 large onion, chopped
6 cloves garlic, finely chopped
½- ¾ cup frozen corn
2 tbsp achiote paste
⅓ cup crushed pineapple
garlic salt (to taste)
pepper (to taste)
14-20 corn tortillas
1 cup shredded mexican cheese
¼ cup queso blanco, crumbled
1 avocado, sliced
1 cup olives, sliced
2 scallions, chopped
⅓ cup cilantro, chopped
¼ cup sour cream
Enchilada Sauce
6 oz can tomato paste
1 ½ -2 cups water
1 tsp cumin
1 tsp cayenne pepper
1 tsp garlic salt
1 tsp onion powder
2 tbsp vegetable oil
Directions
Preheat the oven to 375 degrees fahrenheit.
Place a large skillet on medium and heat the vegetable oil . Saute onions and garlic until slightly caramelized. Throw in the beef, garlic salt, and pepper. With a wooden spoon, break up the meat into tiny bits. After the meat has browned, add the achiote paste, crushed pineapple, and corn. Allow it to cook for an additional 5-10 minutes, stirring occasionally.
Roll the tortillas with the meat filling and line them side by side in a baking pan.
To make the enchilada sauce, simply mix together the sauce ingredients. You can choose to use more or less water, depending on how thick you'd like your sauce to be.
Pour the sauce evenly over the rolled tortillas. Sprinkle the shredded cheese and queso blanco over the top and bake for about 10-15 minutes. Everything is already cooked so you're basically just trying to get the cheese to melt and have everything blend together in the heat.
When the enchiladas are finished baking, add avocados, scallions, olives, cilantro, and sour cream on top. And there you have it – quick and dirty enchiladas!
Share with Your Amigos!