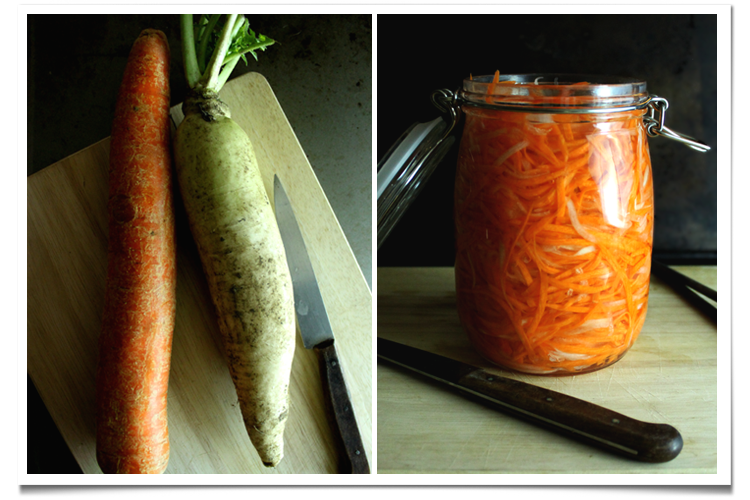 Pickled carrots and daikon, Vietnam's equivalent to bread and butter pickles. I can just eat these babies plain with a small bowl of rice, and in fact I have. I prefer to eat omnivore-light; and for those who've never heard the term, it means I'm not exactly a vegetarian, but I try to cut out meat when I can, and let me tell you, pickled carrots and daikon make for a great vegetarian snack! These lightly pickled and julienned veggies can be added to almost anything! It's perfect if you need a sweet and yet slightly sour crunch to your dish. It's generally used in banh mi sandwiches, dry noodle bowls, meat and rice plates, spring rolls, and many more delectable dishes.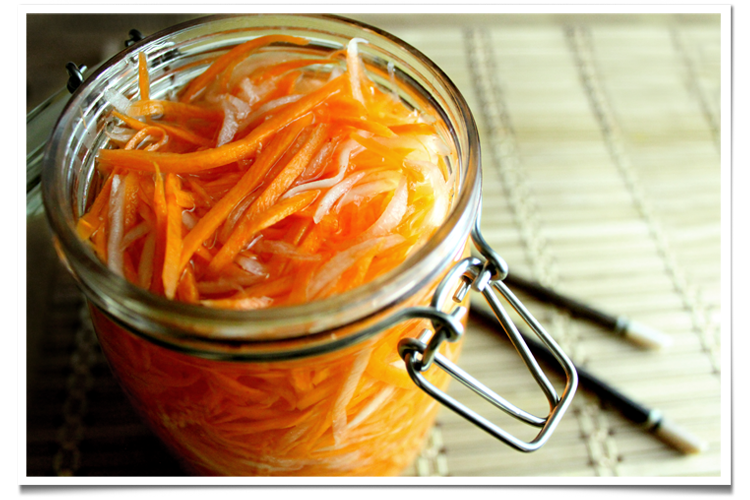 The fiance bought me a vegetable carving set last week (he certainly knows the way to a foodie girl's heart). There's a blade especially for julienning (not sure if this is an actual word), and it is phenomenal! No more cutting veggies into tiny thin pieces the hard way. I'm reminded of the first scene of "2001 a Space Odyssey" where the ape revolutionarily discovers the ability to use tools. Ok, maybe I'm exaggerating the epicness of the julienner (as I now call it), but it is no doubt a must-have kitchen utensil in my eyes.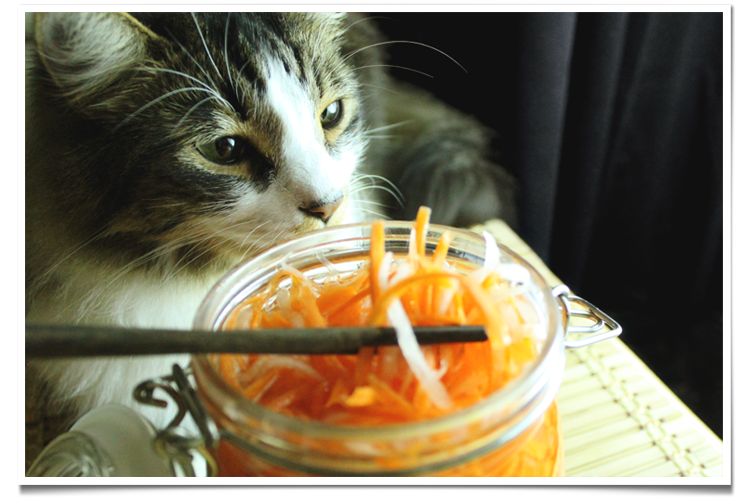 My photography assistant, Jeffy, or as I sometimes like to call him, "El Jefe"!
Interesting factoid: pickled carrots and daikon are called "do chua" in Vietnamese. The literal translation is "sour stuff".
Ingredients:
1 lb carrots (around 3 carrots), peeled
1 lb of daikon (around 1 large daikon), peeled
1/2 cup sugar
1 tsp salt
1 1/8 cups distilled white vinegar
1 cup warm water
Julienne the carrots and daikon, and toss them in 1 tsp of salt. Let sit for a few minutes. Rinse carrots and daikon and transfer them into jar containers. Dissolve the sugar in warm water until the sugar granules are completely dissolved. Add distilled vinegar to the sugar water solution. Pour into the containers and seal the jars tight. Let it pickle for 24 hours before eating.
Yeilds: 2 20 oz jars
Will keep in the fridge for a 1 -2 months.
Share with Your Amigos!