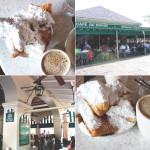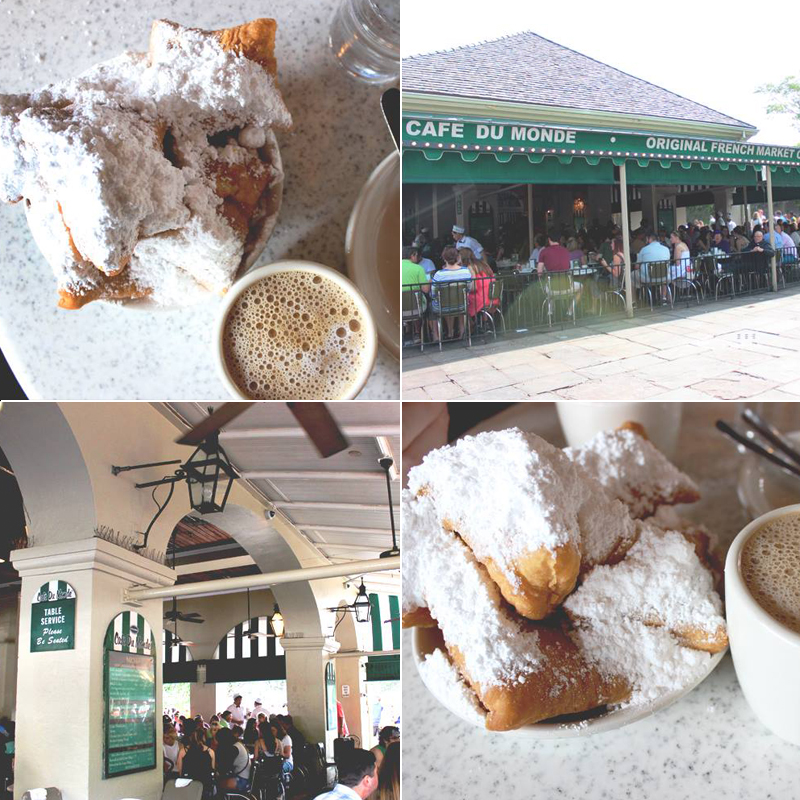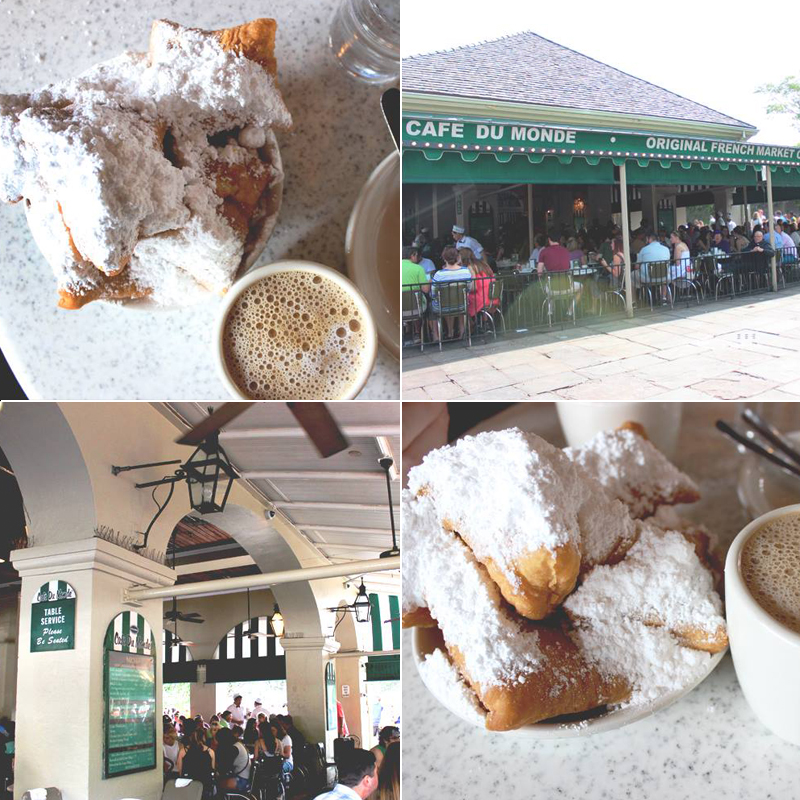 Last Month, Jonah and I took a vacay down South to Gulfport, MS and one of America's biggest food capitals: New Orleans! Above are some shots from Cafe Du Monde, THE said place to get beignets. When we got there, there was line of about 200 people or so, and that's just the sit down line (yes, there's a separate line for take-out). But don't let the lines scare you too much – we ended up only having to wait 15-20 minutes or so. The table turnaround is pretty quick, because really, how long does it take to scarf down doughnuts and coffee?
We ended up trying a few more beignet places and I found it interesting how much they vary in both flavor and texture depending on where you go and if they fry with cottonseed oil or vegetable oil. One block down from Cafe du Monde on Decatur St. is New Orleans Famous Beignets And Coffee. This is where people go for the French pastry after being overcome with the lines at Cafe du Monde. Jonah and I tried it out and saw that it was flaky and hollow, almost puff pastry-like, whereas Cafe du Monde's dough is a bit denser and slightly spongy. West Beignet (in the Louis Armstrong New Orleans International Airport), however, serve their doughnuts fluffy and pillowy which reminded me of these Vietnamese doughnuts I grew up eating called Banh Tieu. Although each place we visited made their pastries differently, they were all delicious and it's to hard say which is superior. If anyone ever makes a blind taste test to compare beignets, please sign me up!
Here are some more shots from our trip!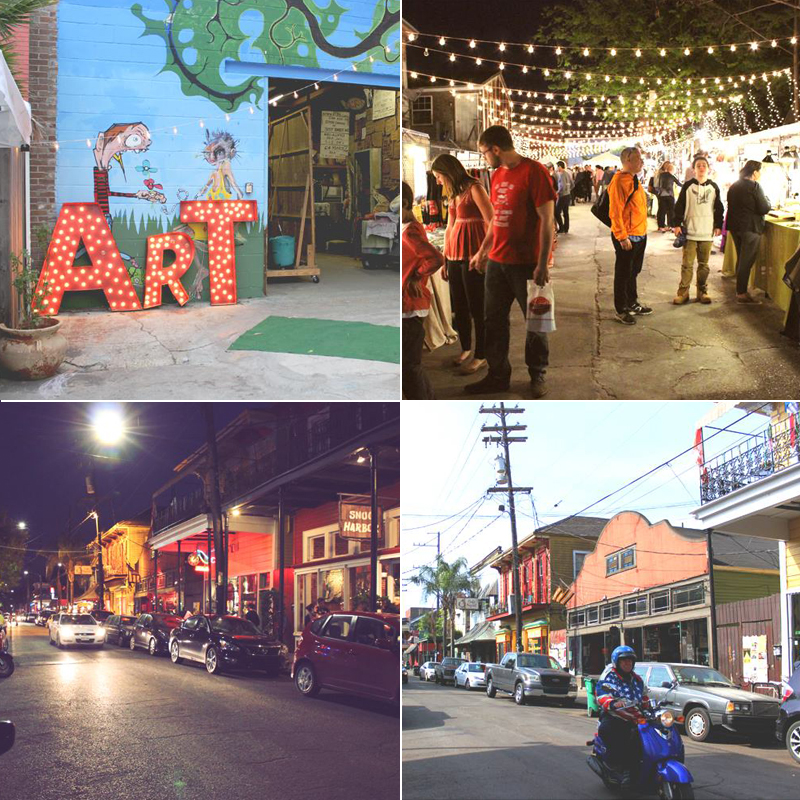 Top left: Frenchmen art market by day.
Top right: Frenchmen art market by night.
Bottom left: Frenchmen st. by night, surrounded by lots of music and the smell of NOLA's best cuisine.
Bottom right: Frenchmen st. by day. This street is completely dead before 4pm, so don't even think about brunching on this section of Frenchmen.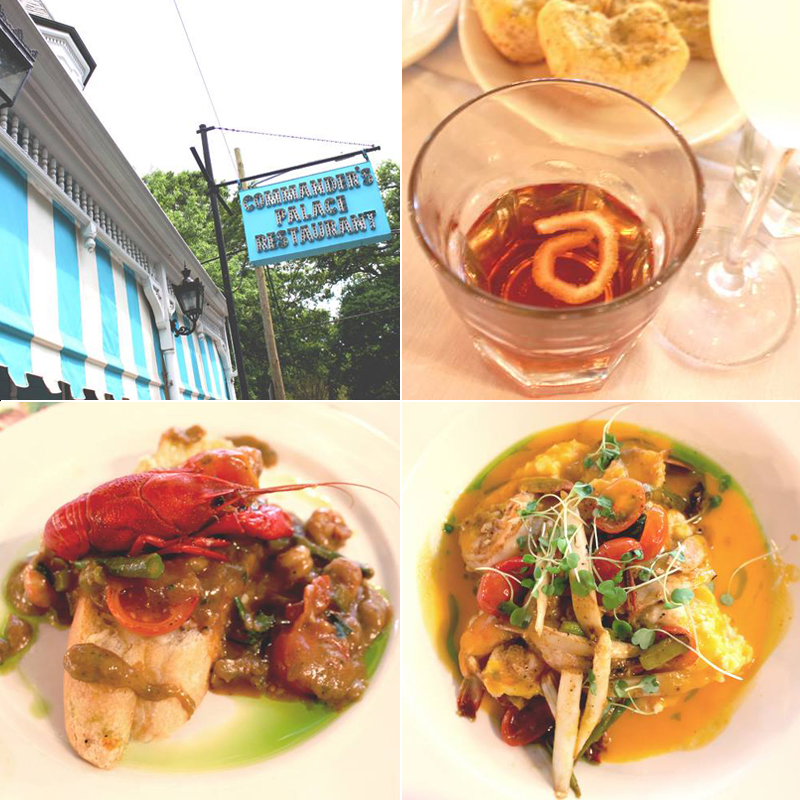 Top left: Lunched at the Commander's Palace. Don't let the circus tent fool you, this is one of the fanciest restaurants I've ever been to.
Top right: The Sazerac, a cocktail made of rye whiskey, absinthe, and bitters.
Bottom left: Craw fish tartine. The waitress asked if I needed help cracking open the craw fish. Pffft, please.
Bottom right: Louisiana Shrimp and Grits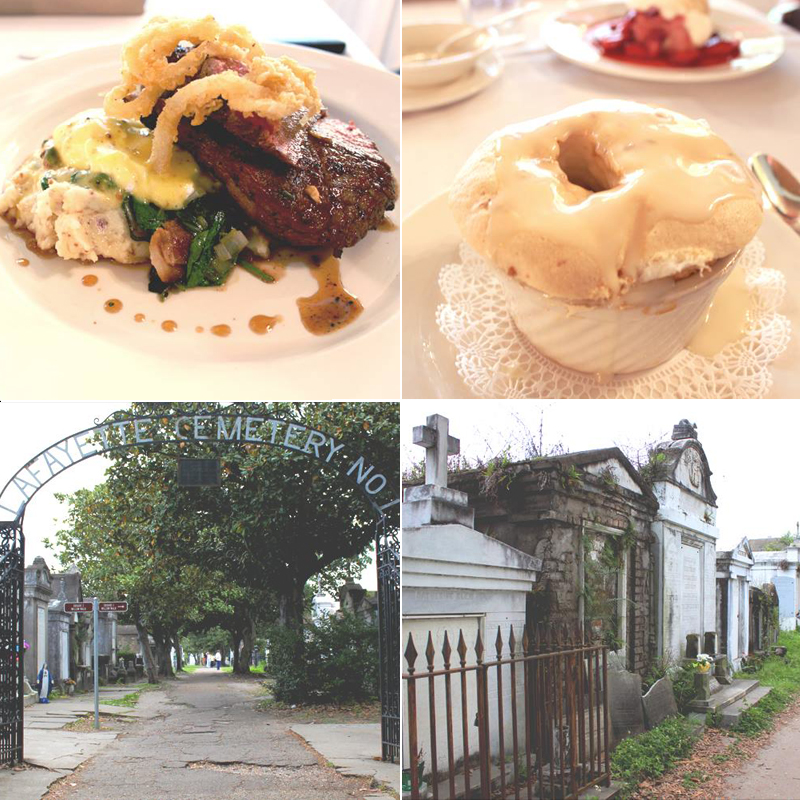 Top left: The husband ordered the Blackened Sirloin
Top right: Bread pudding souffle. Does this pic make you think dirty thoughts? It does? Good! Let's be friends.
Bottom left: Paying our respects to those laying in Lafayette Cemetery
Bottom right: Beautiful mausoleums of Lafayette Cemetery. You don't see many structures like these on the West Coast.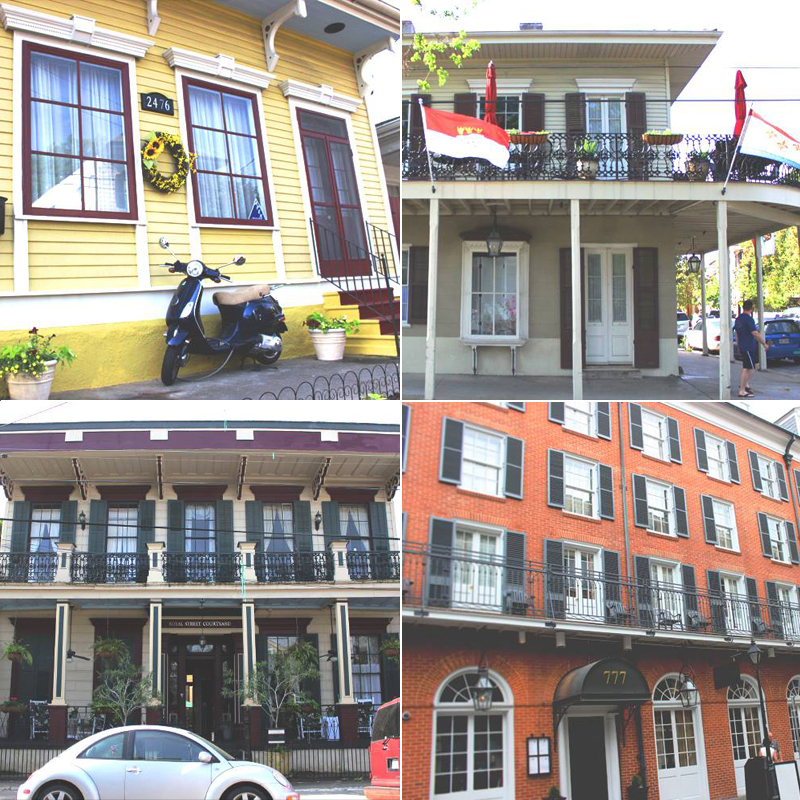 NOLA's charming and beautiful architecture.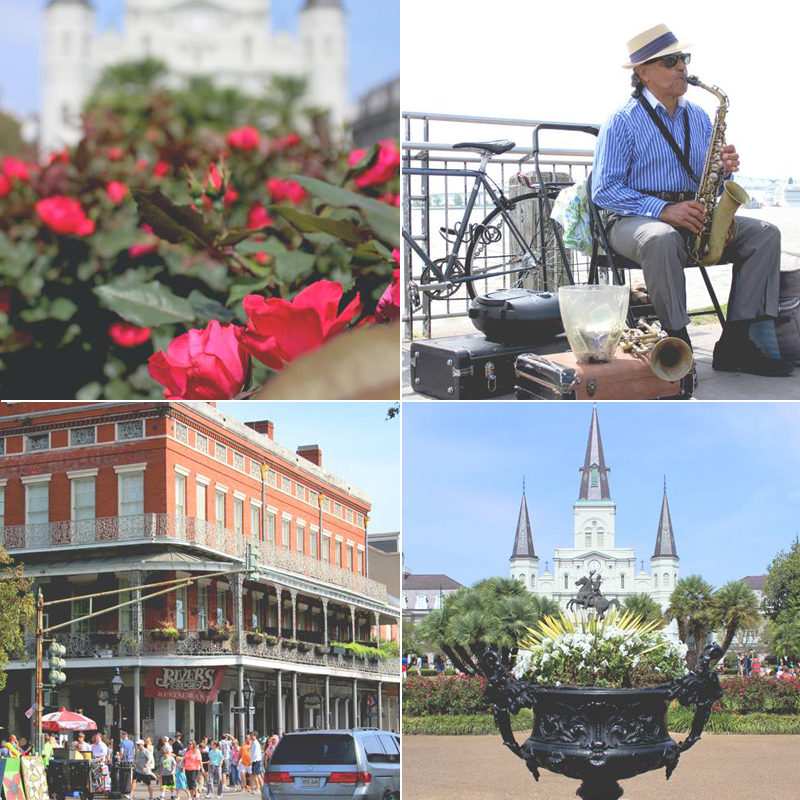 Top left: Roses from Jackson Square
Top right: Jazz musician by the water
Bottom left: Decatur st.
Bottom right: More Jackson Square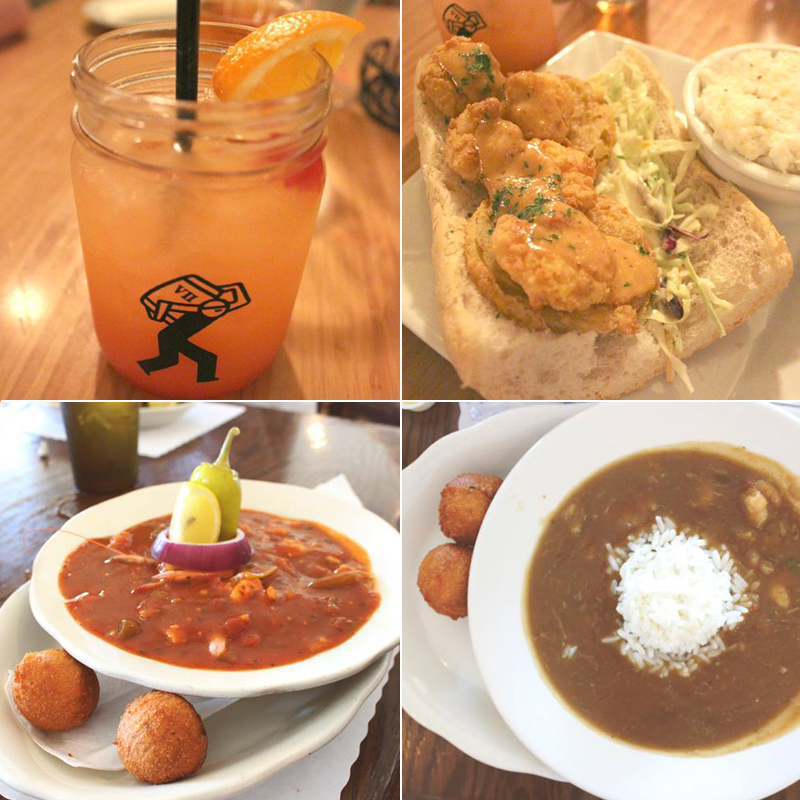 Top left: Hurricane cocktail
Top right: Shrimp and fried green tomato po boy
Bottom left: Shrimp Creole and hush puppies
Bottom right: Gumbo and hush puppies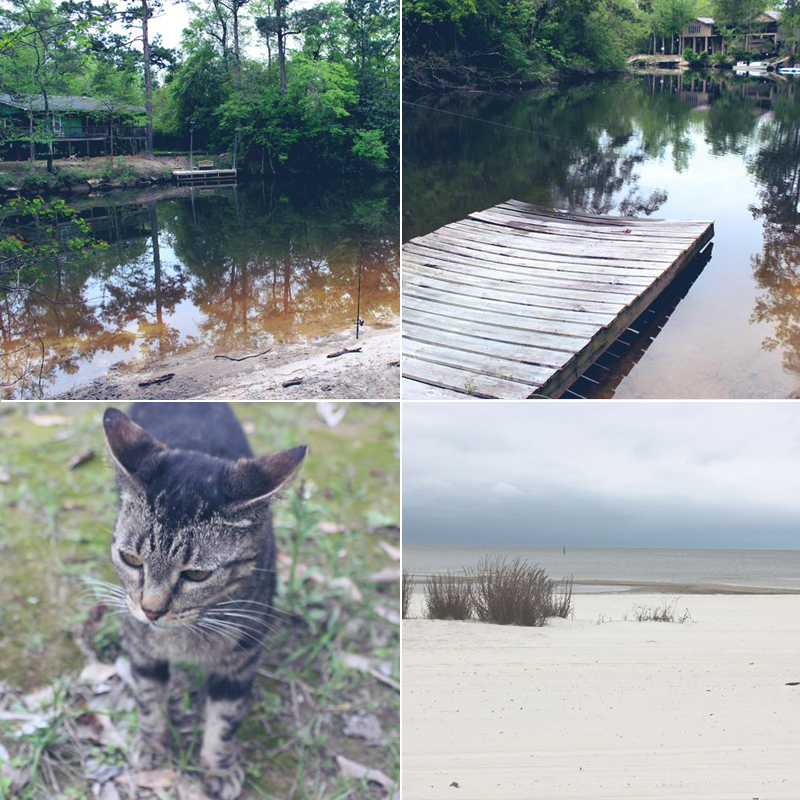 Top left: Fishing in the bayou in Gulfport, MS.
Top right: Not one fish was caught 🙁
Bottom left: Jerry the cat, he goes from one vacation home to another asking for treats and love, and people are happy to give him both 🙂
Bottom right: White sandy beaches of Gulfport, MS
Share with Your Amigos!