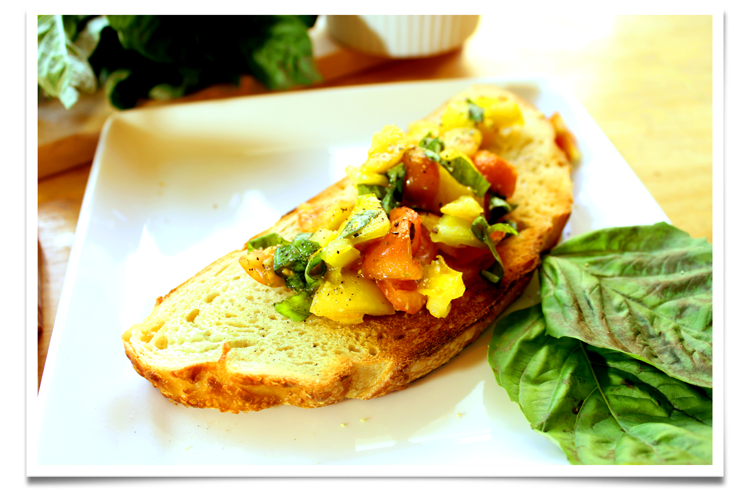 Ah, brushcetta…make sure you pronounce it with a hard K sound (bru'sket:ta) , lest an Italian speaking person slap you across the face, or worse, give you the stink eye.
Bruschetta is one of my favorite quick appetizers. It's also, carbs aside, one of the more healthier foods I consume. I can bite into this scrumptious snack knowing I'm getting a decent intake of fruits and vegetables (remember, a tomato is a fruit). This almost guilt-free appetizer is also a huge party pleaser. If I ever invite you to one of my house parties, you can be sure to find bruschetta on my kitchen table. Diced piquant tomatoes accented with earthy basil and pungent garlic…it's like a symphony of flavors in your mouth.


Ingredients:
1 tomato or 10-15 cherry tomatoes
5-7 basil leaves
1 garlic clove minces
1 pinch coarse sea salt
1 pinch sugar
1 pinch pepper
1 tsp extra virgin olive oil
Directions:
Dice the tomatoes with a quarter inch thickness. Add the sea salt. Julienne the basil and add to the diced tomatoes. Add in the minced garlic clove or ⅓ tsp of crushed garlic. Pour over the extra virgin olive oil. Add in sugar. Add in pepper (optional). Mix all together. Serve on toasted baguette slices and finito!
Yeilds: 3 servings
Share with Your Amigos!